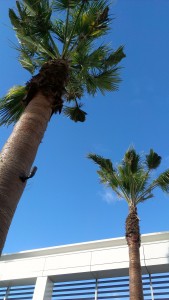 I am torn. While I really do love being home, I left behind palm trees and sunshine in California and returned to snow in the mountain desert.
I got a lot done at TNNA, including sourcing the yarns for my next collection (the focus of which is Modern Colorwork, and you will LOVE it!), launching my collection with Manos del Uruguay yarns (which I will start showing you this week), and catching up with some of my favorite people.
I also stocked up on all the middle eastern food items I can't get easily at home like Sumac, Za'atar and cracked green olives. I'm sure the 2 cans of olives baffled TSA, as they searched my luggage on the way home. Look for a glut of Middle Eastern food coming soon, spurred on by my recent cookbook purchase of Jerusalem. Grain salads and fresh flavors are the perfect thing for the transition back to winter.