What is a Jam CSA?
CSA is "Community Supported Agriculture". So a Jam CSA is where you buy into a share of my jam-making. You can choose how many shares you want to receive every season, and you can choose which seasons.
Each season I will make 4 batches of jam, fruit butter, or curd highlighting the best produce I come across. If you choose to buy 4 shares, you will receive one jar of each flavor I make during that season. If you buy fewer than 4 shares, the jam used to fill your share will be selected from the available flavors. I will take any dietary restrictions into account when making this choice.
Summer = Cherries, Berries, Melons
Fall = Stone Fruits like plums and peaches, Apples
Winter = Marmalade, Citrus, Pineapple
Spring = Meyer Lemons for Curd or Marmalade, Strawberries,
Why is this jam special?
I use seasonal hand-chosen fruit and a traditional process for making the jam which includes no commercial pectin. I use a slow cooking method in my copper preserving pan that gives a much richer, and more complex flavor to the finished jam. I also make creative choices to pair fruits with herbs, spices, and other natural flavorings to enhance their flavors. Most of the fruit is grown local to the Salt Lake City area.
How much does a share cost?
Each share will cost $7 for an 8 oz jar of jam, plus shipping. This cost includes the jar, and all ingredients. At the end of the year if you want to return your jars (and PLEASE do!), I will credit you for the cost of the jars.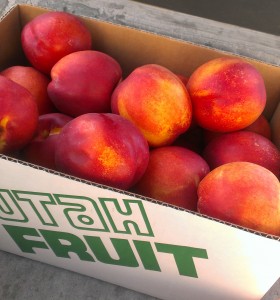 How much is shipping?
Jam is heavy. Each 8 ounce jar weighs over 1 lb without any shipping materials, so shipping for 1 jar is about $8. Shipping for 2 shares is $10, and shipping for more than 2 shares is $12 because I can put it in a medium flat rate box.
When will each share ship?
Since each share is made with the season's best fruits, each season's jam will ship at the beginning of the NEXT season, for instance, Summer's share will ship around the First Day of Fall.
What do I do with this jam?
Aside from the classic usage of spreading it on toasted bread, I've come up with many wonderful ways to use homemade jam. Try it in plain greek yogurt, or swirled into your oatmeal. Cut out pie crust rounds, push them into the bottom of muffin tins and put jam inside and bake for little bitty jam tarts. You can use it as an ice cream topping, or to brighten up a pound cake. Use it on french toast or pancakes instead of syrup. My favorite is to make a batch of scones or biscuits, brew a pot of tea and have yourself a special tea party.
Sign up Below! and I will send you a paypal invoice.
Signups for Summer are now closed. The jam is made and will be shipping soon. Please sign up for other seasons