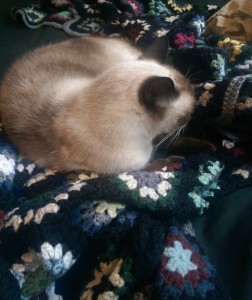 I learned to crochet when I was 8. But my love of Granny Squares came a bit later. An 8-year-old doesn't have a lot of free cash to buy bunches of different colored yarns, and I would save my allowance or raid my mom's craft room stash to make doll blankets, and covers for tables, but I didn't start to feel the granny love until my first year of college when we moved to a different house and I truly realized how large my scrap stash had grown. I had tons of colors, but not enough of any one to really do a whole project. I was knitting by this time, and I had started working with more natural fibers. Most of my scrap stash was acrylic or acrylic wool blends, and I figured I should either use them or get rid of them. 🙂
About this same time, my long-abiding love of hexagons had begun, and when I saw a granny hexagon pattern I went to town.
I ended up making 2 granny hex afghans (one for me, one for my then-boyfriend, now husband), and made a woobie (our term for a special blanket) for my youngest brother.
As with most of my crafty pursuits I was trying to come up with a way to change it up from a standard granny square, so I made up this tilted granny block. You work the first two rows like a normal granny square, then rotate it on the diagonal and work a corner in each flat side and anchor it on the corner of the previous row with a slip stitch. Then the square is reacquired and you keep going.
Granny squares are so much fun! If you'd like to get hooked on granny squares yourself, check out mine and Amy O'Neill Houck's knitty article complete with step by step instructions on granny squares.
And as an actual-granny tie-in, check out the granny square afghan complete with corner tassles that my Great Grandma Rose (click the link for her picture) made for her son! It now belongs to me and I treasure it 🙂
<3 M