Thanks, everyone, for your input on my informal learning survey! If you haven't seen it yet, please consider taking a few minutes to answer the questions here.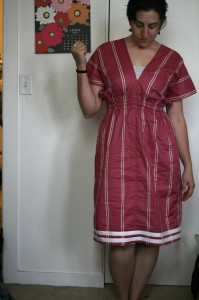 I've been working this year on making more than I buy. There are many posts or articles out there railing against consumerism, and I don't want to reinvent the wheel, so I won't go over all the reasons I want to be less consumerist here. But for me, at this point in my life, I realized that I have the skills, the desire, and the resources to be able to make a greater portion of my life. The sweatshop fire in Dhaka late last year basically pushed me over the edge and I decided to put my money where my heart is.
I'm finding that I have a lower tolerance for ill-fitting and cheaply made things now that I understand the work that should go into them. It takes an extra minute to run a second stitching line around a pocket to reinforce the seam, but it makes a world of difference to the usability of the finished piece.
While I'm still a little scared of making a well-fitting woven dress (and taking The Couture Dress class on Craftsy to combat the fear with a wealth of information and experience), I've been making lots of knit clothing and woven fabric stuff that doesn't require a lot of tailoring. And I've scheduled myself some sewing time every week to ensure that I squeeze it in.
Last week I made the dress in the photo up top, which is a Museum Tunic in some Anna Maria Horner Voile called "Pastry Line", and I also made a quick fold-top knit skirt from some super discounted stripey knit fabric I got on a recent trip to So. Cal. This week I'm spending some time making muslins for a couple woven fabric dresses to make sure they fit properly. I also had a great conversation with Lizzy House about her plan to have a closet full of her handmade clothing. And I'm hoping that A Verb For Keeping Warm does another summer of Seam Allowance so I can join in remotely and get some support in this process.
<3 M