I've been sewing quite a bit. In fact I've accumulated a rather large selection of scraps from all the project bags I've been making to sell at my LYS and as holiday gifts. The project bags are great, made using two fat quarters and double thick with a nice grosgrain drawstring. I even went through the other day and picked out a couple colors and used just the scrappy bits to make a pieced pincushion. But there are never enough project bags, right? Even if you're a one project knitter, there are always the next projects waiting in the wings, or maybe you need one to keep your mending from being played with by four-legged housemates, or maybe you just need a nice bag to take your makeup on a trip. So here's my proposition…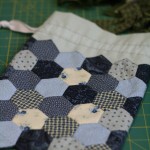 Let's have a swap! Everyone make a project bag (or two or three), and send it(them) to me. I will switch them around and send them back to you. If you sent more than one you will get the same number in return. They can be drawstringed, zippered, etc… but please, no velcro. Velcro and yarn and not good friends. Get creative, use up some scraps by making a patchwork bag. Let's just make it at least large enough to hold a pair of socks or a small shawl. It can be bigger if you feel inclined, but any bags that wouldn't at least hold a pair of fingering weight socks will be returned un-swapped. Get them to me by March 15 and they'll be included in the swap.
The Rules:
Tag each bag you send with the maker's name or internet handle. You may also want to include the fabric information (designer/line), or care instructions. It would be appreciated if they were all washable. I know I get my project bags fairly dirty dropping them on trains and stowing them in the footwells of cars or shoving them into my bag. Please attach this information to the bag by tying it on or pinning it with a safety pin (no straight pins please).
Postage + Envelope:
US participants need to include a self-addressed, postage-paid, large First Class Envelope. You will have to provide your own Self-Addressed Stamped (Non-Priority) envelope. If you're only swapping the one bag, it probably won't weigh more than 8 ounces. Postage for a first class envelope of 8 oz is $2.80. If you're swapping more than one bag, you should send your postage paid envelope with max for first class parcels of 13 oz. ($3.75). I will make sure all packages stay under 13 oz. so that your postage is covered. You will have to purchase the stamp(s) to cover this. To be sure you receive your package, I require first class envelopes only.
Non-US swappers, the only way for me to collect postage fees from you is PayPal. I expect packages to weigh under 10 oz., so postage should be between $4 and $8, depending on where you live. You must include your email address ON the outside of your package, with your address, so that I may email you for your postage fees. If you don't, I won't be able to contact you and send your package back.
Any project bags received by March 15th will be swapped. Any bags received after that date will be returned un-swapped. Please mail them to:
Miriam Felton
PO Box 1764
Salt Lake City, UT 84110
I'd love to see everybody post progress photos, or the fabric you're using. If you're posting on twitter or Instagram use the hashtag #BagSwap, and I've started a thread of Ravelry if you want to discuss patterns or materials.
ETA 1/16/2013:
FYI for the Local (SLC or Northern Utah Area) Folks!
If you want to save on postage, Black Sheep Wool Co will be serving as a drop off point for the Project Bag Swap! The deadline still applies. I need to have the project bags AT BSWCO by March 15th to be in the swap. Please still tag your project bag with your contact info, and include another tag with your contact info to be attached to the bag you get back. The swapped bags will be taken BACK to BSWCO for you to pick up.
If you want to drop it off instead of mailing it in, but have the new bag mailed back to you, then include your return postage envelope like originally instructed.
Thanks everybody!