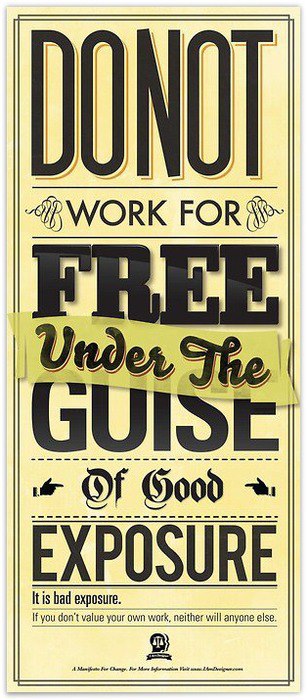 WARNING: This is a math-heavy post, if you want the TL:DR version… Teaching contracts have been getting progressively worse for fiber teachers, and I don't want to work for nothing.
This hangs on my wall. I try to use it as a guiding force when I'm up against hard decisions. This is not to say that you always need to work for money. I love working for trade, and sometimes you work without compensation to learn some new skills, or gain practice that you can use in your future portfolio.
But some recent business interactions have brought this to the fore. What do you do when you're not straight up being asked to work for free, but being asked to work for a rate that quite possibly will not even cover your costs let alone pay you a fair wage. I'm not a lucky person. I work hard to try to make my own "luck". If something can go wrong, it probably will. I'm a misanthrope and a pessimist. I don't expect people to look out for me. I look out for myself.
When I teach at a local yarn store, I charge a tiered fee to help make it easier for smaller shops to still bring in high-quality instruction, even if their class space isn't large, or they can't fill a 20 person class. I also find the tiered approach acknowledges how much harder it is to teach a class of 8 than it is a class of 25. My fee structure breaks down to this:
$70/class hour up to 10 students
$75/class hour 10-15 students
$80/class hour 15-20 students
$90/class hour over 20 students
So I submitted classes for a big event based on knowledge that their contract had been not unreasonable in the past, and got a teaching contract back that was appalling. A small per-student fee ($25 per student per 3 hour class), and no travel, no lodging, no per diem. My flight to this venue will run about $200, then there's a shuttle from the nearby airport to the venue, which is $80, a conservative per diem for a place like this is $40 per day. With 3 days of teaching (2 full days and 2 half days, plus arriving a day before to be safe is 4 days. The group hotel rate is $179 pre taxes, so without even going into the number of students I can pull to this event that I've never taught at before, I'm already OUT OF POCKET $1156 (without taking hotel taxes into account. If I estimate those, I'm running $1200). To make my low-end standard teaching rate plus expenses, I would need to have an average of 16.4 students in each class. EACH AND EVERY CLASS. That means no wiggle room. No class cancellations, no classes with 14 people in them.
I wrote back and suggested that their financial model was untenable. They came back with a lower per-student fee ($22 per student per 3 hour class) and a $500 stipend. If you're keeping track, for the 6 classes they accepted, with a max # of 26 students for each, that $3 difference per student comes out to just under $500. So they really didn't give up much on their end. With the new stipend and reduced per student fee, it breaks down to needing 5.3 students per class to COVER COSTS, and 14.8 students to pay me my standard fee. With a contractual minimum of 5 students for a class to run, this means that if all my classes filled with just the minimum I would still be out of pocket. And the way the contract was written, if a class met it's minimum it couldn't be cancelled by the instructor. The class had to run. Again… not ok. So theoretically I could be stuck traveling, paying out of pocket for all the non-teaching costs, teaching the classes, and then still end up not getting paid enough to cover the costs.  I could also, theoretically be making twice my standard rate if all my classes fill (26 students is full for the purposes of this venue). But the likelihood of that seems slim.
I realize that an event like this carries inherent risk. There's risk on all sides. The vendors hope that their costs of travel, freight, luggage, and booth fee will be covered in the merch they sell. The organizers pay for the venue, the workers at the event (this is why most events utilize volunteer work), their employees, their legal department, event insurance, and travel for their organizers to get to the venue. I am willing to take a risk that I might not make my ideal rate at a big event where I'm not the only draw. I can't guarantee that there isn't an amazing class taught by a super star that conflicts with my best class. That will bring enrollment down. But I draw the line at the possibility of having to PAY to travel somewhere, teach, and go home poorer. This is my job. This is not a charity.
So we went back to the negotiations. I got the contract adjusted so that by the cancel date if my enrollments aren't up to a level of risk that I'm ok with I can walk away, not owe them anything, and dust my hands of the whole affair (aside from the guilt of disappointing the people who signed up for my classes and messing with their class schedules). It sucks. But it's what I have to do to keep this business running. Some really great teachers didn't sign the contract, some of them signed it anyway (risk and all), and some of them made their own negotiations. Everyone did what they felt they needed to.
There's been some talk around the fiber community of teachers being seen as Divas for the #FairFiberWage discussions and for the things we require (travel, lodging in a private room, and a per diem or meals covered). Until you've done an event like these you have no idea. Your workday goes from the moment you step onto the show floor to the moment you lock yourself in your room and collapse in bed. You're always ON, people stop you in the hallways and ask you questions. You've put an average of 30 hours of work into each class before it's ready to teach. That's work you did on spec. You don't get paid for that. You just hope that you get to teach the class enough times to try to make up some of the cost of that time.
With my fibromyalgia issues, I am down for a minimum of a week after one of these weekend events. And I mean DOWN. Like, I need to be horizontal, with only upright breaks to make tea and food, I nap for 3 hours at a time during the first few days for my body to recover. So the fees I've come up with are meant to help cover the costs of the pre-teaching time and the post-teaching time. And with teaching, designing, and publishing I still don't cover half the household costs. It only works because I'm in a partnership where my spouse doesn't mind carrying the majority of the load. It's really goddamn hard to make a living in this industry. It's a struggle every day. I have my fingers in so many pies trying to pay the rent that sometimes it's overwhelmingly complicated.
All I'm saying is…. what we're asking for isn't unreasonable. We're reasonable people. We want to make a living and want to teach something we're passionate about. None of us are millionaires. Just give it some thought. That's all I'm asking for.
If you want a little more context of what's going on, check out: