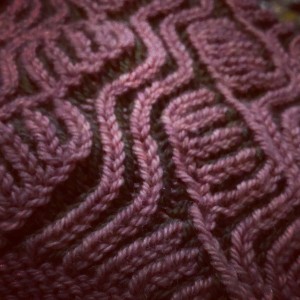 So hi! Haven't blogged in a while…. with some pretty good reason. There was lots of health problem build up and then in August I was diagnosed with Fibromyalgia. It's more fun than reaching into a bag of angry cats trying to figure out what I can and can't do, having more bad days than good days every week, and learning to forgive myself for not having the energy to do the dishes or vacuum the carpet.
There's been basically no new designing, but there has been some knitting. I am enjoying what most knitwear designers never get – Time To Knit Other People's Patterns. I have made a few sweaters, and I've started my Holiday gift knitting. But thanks to a Purl Bee cowl and Mercedes' current string of projects I've falled in love with Brioche.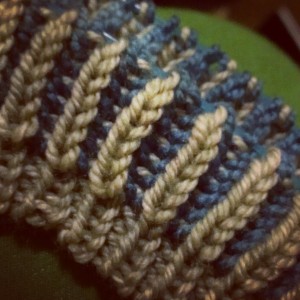 Mercedes and I have weekly web chats and I've been watching her work on Brioche piece after Brioche piece and have loved seeing what she churns out (the woman is a MACHINE, I tell you!). I was looking for an extra project to take with me on a road trip C and I took to Northern California and I coveted the thing Mercedes was making, so she sent me the draft pattern and I wound up a skein each of Anzula Squishy in Plum and Malabrigo Sock in Alcaucil.
The cowl I knit is currently unreleased (it will be the project for an upcoming class), but her Rhoda cowl is very similar if you're looking for a fun 2-color project! It was the first thing in a few months that I have just LOVED knitting. I kept stopping to admire it. And then I finished it and I was sad. So I did the only logical thing, change up the christmas knitting plan and make somebody Brioche legwarmers! I'm knitting them 2 at a time on 2 circulars (4 balls of yarn to wrangle!) with more Squishy in Denim, & Shibui Sock in Dragonfly.