In years past, I've done this promotion… you may remember it. Gift 1 pattern to a friend (or a stranger) through Ravelry, and get one for yourself for free. I like giving gifts, and I think everyone else should love giving gifts, so this is my holiday gift to you all. Give a pattern, get one as a gift from me.
So from now until the end of the year (Dec. 31, at midnight Mountain Time), if you gift one of my patterns via Ravelry (maybe to someone in your knitting group or to your favorite forum moderator), then send me a PM (to mimknits on Rav) and tell me what pattern you would like for yourself and I'll gift it to you. Gift 1, Get 1.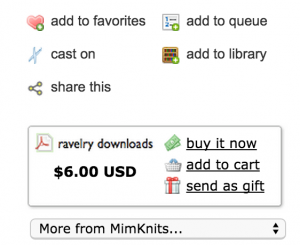 If you've never gifted a pattern, just look for the box with the purchase and download info. See the little present in there? It allows you to send the pattern as a gift. Just click "send as gift" and fill in the recipient and message. Share your favorite pattern, or give a pattern that your knitting friends have been eyeing. For every pattern you gift, you can get one for free. So go nuts 😀
And another hint… If you click on your friends' profiles, you can view their queue or their favorites list to find patterns they might be wanting. 😀
Happy Holidays!
M
p.s. If you're looking for a great recipe to try this winter, get your hands on a ton of fresh ginger and make this amazing cake! Perfectly spicy, with a bit of bitter from the molasses, and not too sweet. And then make a cream cheese frosting to go on it, cause it doubles the awesomeness. Thanks to Jocelyn for the recommendation!