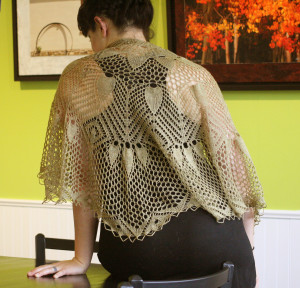 Welcome! Please check out the links in the right sidebar for navigation. If you want to see what's new, click on Blog. If you want to see a portfolio of my designs or buy patterns, click on Design Purchase & Info. If you're wondering who I am, click on Biography. Thanks for visiting!
Jan 2016:
New! The Mora Shawl (pictured left). From the stockinette leaf motifs to the open honeycomb lace, this shawl delights in playing with positive and negative space. Taking a twist on an Elizabeth Zimmerman Pi Shawl, this half-circle shawl is drapey and elegant no matter how you wear it.
New! Korda Socks have a flattering chevron design and vintage details like a cuban heel, a tubular cast-on, and patterning that gives you a peek-a-boo toe.
May 2015:
Shifty Rib Socks have clean lines, simple patterning, and 4 sizes. Great for hand-dyed, self-striping, or even solid colored yarns.
Vinifera Socks, named for Vitis Vinifera (the common grape vine) feature grape clusters and twisted ribbing that goes all the way down the toes.
March 2015:
Parker Tee (shown left) is the perfect transitional garment for Spring or Fall. This tee with a lightly fitted shape features simple lace panels up the sides, and the same lace on the sleeves. The sleeve shaping is a hybrid between a raglan and a saddle shoulder, with the lace continuing up the shoulder tab.
February 2015:
Dalliance Shawl is what happens when easy-to-work garter stitch shawl has a torrid flirtation with a lacey crochet edging. Knit it in one color, or with a contrasting border. In any yarn it's a great knit.
To check out any of my social media presences (Facebook, Twitter, Pinterest, etc..), click on the links in the footer of each page!