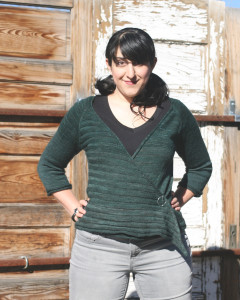 Welcome! Please check out the links in the right sidebar for navigation. If you want to see what's new, click on Blog. If you want to see a portfolio of my designs or buy patterns, click on Design Purchase & Info. If you're wondering who I am, click on Biography. Thanks for visiting!
June 2016:
New! The Promontory Point Cardigan (pictured top left) is a wardrobe staple with classic lines. Knit seamlessly from the top down, the welt detail on the right front adds textural interest. The finishing details like rolled front edges and lifted increases make for a sleek sweater the moment you cast off.
New! The Mocárabe Cowl (pictured bottom left) features an allover honeycomb cable pattern, but hidden in the cables are hexagons made of eyelets!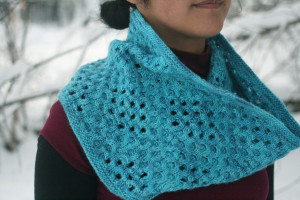 March 2016:
The Daelin Shawl (pictured left) is a soft crescent-shaped shawl, perfectly sized to be worn as either a scarf or a shoulder shawl.  With squishy garter stitch up top, and a progression of lute- like lace on the edge, it features a sweet stitch cluster and a subtle picot edge.
January 2016:
The Mora Shawl. From the stockinette leaf motifs to the open honeycomb lace, this shawl delights in playing with positive and negative space. Taking a twist on an Elizabeth Zimmerman Pi Shawl, this half-circle shawl is drapey and elegant no matter how you wear it.
Korda Socks have a flattering chevron design and vintage details like a cuban heel, a tubular cast-on, and patterning that gives you a peek-a-boo toe.
May 2015:
Shifty Rib Socks have clean lines, simple patterning, and 4 sizes. Great for hand-dyed, self-striping, or even solid colored yarns.
Vinifera Socks, named for Vitis Vinifera (the common grape vine) feature grape clusters and twisted ribbing that goes all the way down the toes.
To check out any of my social media presences (Facebook, Twitter, Pinterest, etc..), click on the links in the footer of each page!