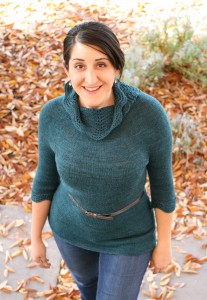 Welcome! Please check out the links in the right sidebar for navigation. If you want to see what's new, click on Blog. If you want to see a portfolio of my designs or buy patterns, click on Design Purchase & Info. If you're wondering who I am, click on Biography. Thanks for visiting!
October 2014:
I've just released the Bow River Pullover (shown left), a round yoke sweater with feather and fan details on the cowl neck and cuffs.
September 2014:
Check out the Broadwyn Shawl! An asymmetrical shawl with garter stitch, a simple lace panel, and easy continuous i-cord edging.
My first crochet pattern! The Breccia Cowl is a great next-step up from Granny Squares. Simple crochet stitches, and lovely drape.
To check out any of my social media presences (Facebook, Twitter, Pinterest, etc..), click on the links in the footer of each page!