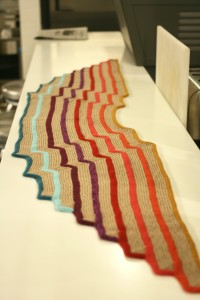 Welcome! Please check out the links in the right sidebar for navigation. If you want to see what's new, click on Blog. If you want to see a portfolio of my designs or buy patterns, click on Design Purchase & Info. If you're wondering who I am, click on Biography. Thanks for visiting!
January  2017:
New! The Cloudlift Shawl (shown left) uses simple increases and decreases to stunning effect, shaping garter stitch sections accented with reverse stockinette welts using a Main Color and a mini-skein set.
New! The Lanata Socks have twisted ribbing and crisp small cables, and a cute ankle clock. These socks also feature a short-row heel with a gusset for a great instep fit.
December 2016:
The Liliom Mitts are a simple fingerless mitt with a shaped arm, but interesting thumb shaping. A great way to show off a beautiful yarn.
September 2016:
New! The Scintilla Hat & Mitts Set is a great way to use sock yarn scraps or a miniskein set like Lorna's Laces String Quintet. Using 5 colors of fingering weight yarn, highlighted with pixelated colorwork makes the perfect hat and mitt set for Fall.
June 2016:
The Promontory Point Cardigan is a wardrobe staple with classic lines. Knit seamlessly from the top down, the welt detail on the right front adds textural interest. The finishing details like rolled front edges and lifted increases make for a sleek sweater the moment you cast off.
The Mocárabe Cowl features an allover honeycomb cable pattern, but hidden in the cables are hexagons made of eyelets!
To check out any of my social media presences (Facebook, Twitter, Pinterest, etc..), click on the links in the footer of each page!