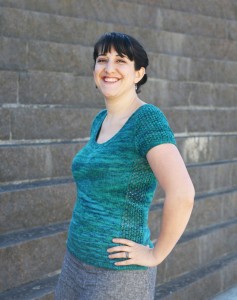 Welcome! Please check out the links in the right sidebar for navigation. If you want to see what's new, click on Blog. If you want to see a portfolio of my designs or buy patterns, click on Design Purchase & Info. If you're wondering who I am, click on Biography. Thanks for visiting!
March 2015:
New! Parker Tee (shown left) is the perfect transitional garment for Spring or Fall. This tee with a lightly fitted shape features simple lace panels up the sides, and the same lace on the sleeves. The sleeve shaping is a hybrid between a raglan and a saddle shoulder, with the lace continuing up the shoulder tab.
February 2015:
Dalliance Shawl is what happens when easy-to-work garter stitch shawl has a torrid flirtation with a lacey crochet edging. Knit it in one color, or with a contrasting border. In any yarn it's a great knit.
December 2014:
The Granny Log Cabin Blanket, is a cozy and luscious hybrid of knitting and crochet. Motifs start with a Granny Square, then you pick up stitches to finish with knitted garter stitch log cabin. Tips can be found here.
October 2014:
I've just released the Bow River Pullover, a round yoke sweater with feather and fan details on the cowl neck and cuffs.
To check out any of my social media presences (Facebook, Twitter, Pinterest, etc..), click on the links in the footer of each page!