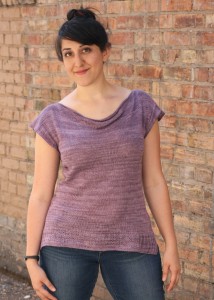 Welcome! Please check out the links in the right sidebar for navigation. If you want to see what's new, click on Blog. If you want to see a portfolio of my designs or buy patterns, click on Design Purchase & Info. If you're wondering who I am, click on Biography. Thanks for visiting!
May 2014: Another new pattern! The Nesoi Tee is the perfect top for summer! Featuring a drapey boatneck, small sleeves, waist shaping, and side vents for ease through the hips.
April 2014: Check out my new Footie Sock Pattern! Sizes ranging from 6-11″ foot circumferences, in 6, 7, 8, 9, & 10 spi gauges. Pick a yarn, swatch for gauge, and take a few measurements to get a perfectly fitting footie sock for every member of the family!
To check out any of my social media presences (Facebook, Twitter, Pinterest, etc..), click on the links in the footer of each page!