One of my problems with Fibromyalgia is that I spend a lot of time (I think, perhaps too much time), focused inward. I have to self-assess multiple times a day. What is my pain level? How much energy do I have? Can I get my list of things done today, or do I need to scale it back? It's exhausting.
So I really wanted to knit something for someone else. To knit my love and appreciation into something for someone else. So I'm making Amanda a sweater. You may recognize Amanda as the model who isn't Ysolda from Little Red In the City. If you're in the yarn trade or affiliated with the industry you probably also know that she's the cheerful voice on the other end of the phone when you call Lorna's Laces. She is also the best hugger in all the land.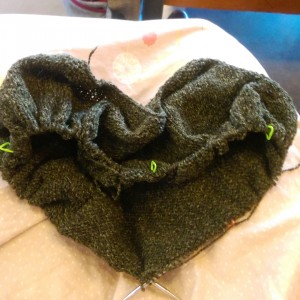 So I'm making her a sweater. If I make you a sweater you know I really love you. I make sweaters for family and adopted family only. One time I made a custom fit, fingering weight, black sweater for a sister. THAT is a serious act of love.
It's nice to get to work on someone else's pattern. To not have to keep track of 7 different sizes for each portion, and to only make a single change (the length of the sleeves). It's a break for my brain.
The pattern we decided on is Poolside by Isabell Kraemer. The yarn is Elsbeth Lavold Silky Wool in a beautiful olive-toned green that's been really hard to capture in varied light. The lace pattern is intuitive and engaging, and I applaud the use of short rows to shape the top-down raglan construction. One of the biggest problems with top-down raglan construction is that the front of your body and the back of your body are not the same length, so having a longer back is imperative to a good fit.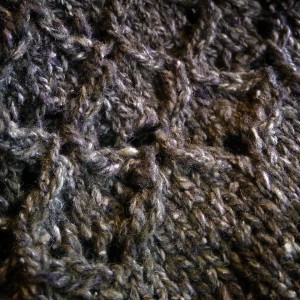 I've been posting progress pics to Instagram under the hashtag #DispatchesFromASweater. They're like little postcards to Amanda from the sweater keeping her updated. Follow along if you'd like.

Who do you knit for? Are there some people you simply refuse to knit for?
M

I work on finding balance every day. After a major work push and some frustrations it seemed like I needed a break in my knitting. I still have to do customer service and all the other aspects of my job, but at least my knitting time can be my own for a while.