It's that holiday time of the year. I am finishing up my gifts and mailing them out around the country. I'm also dreaming of the unencumbered knitting I will get to do when I'm finally done with the gifts.
I'm going to be warping my loom on the Solstice (Dec. 21), and I like to start a new project with the new year, so I'm making all sorts of crafty plans. To help you with your gift list AND your crafty plans, from now until the end of the year (Dec. 31, at midnight Mountain Time), if you gift one of my patterns via Ravelry (maybe to someone in your knitting group or to your favorite forum moderator), then send me a PM (to mimknits on Rav) and tell me what pattern you would like for yourself and I'll gift it to you. Gift 1, Get 1.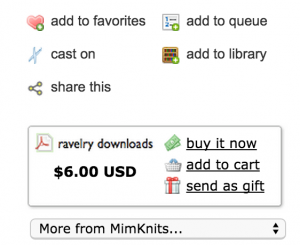 If you've never gifted a pattern, just look for the box with the purchase and download info. See the little present in there? It allows you to send the pattern as a gift. Just click "send as gift" and fill in the recipient and message. Share your favorite pattern, or give a pattern that your knitting friends have been eyeing. For every pattern you gift, you can get one for free. So go nuts

And another hint… If you click on your friends' profiles, you can view their queue or their favorites list to find patterns they might be wanting.

Happy Holidays (aka Cookie Time)!
M