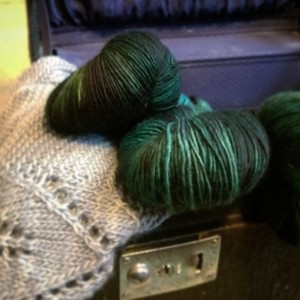 Mrs. Crosby is lovely, as is her yarn. Satchel, which I used for the Broadwyn Shawl, is a buttery Superwash Merino Wool Fingering Weight. It was a difficult decision which color to pick for Broadwyn, but in the end, I am a sucker for gray, and it would photograph well. So I chose Greystone.
But Mrs. Crosby's yarn fairies were kind enough to send me 3 skeins of Satchel in "Green-Tailed Grackle", a deep and glorious mix of greens for a giveaway! I'll throw in a copy of Broadwyn (for you or for a gift if you've already bought the pattern) to make the giveaway complete.
So… here's the deal… leave a comment on this post telling me where you would wear Broadwyn and I'll pick a winner at random on Friday, September 26.
Yay! Looking forward to hearing from you!
M
Update: Out of 56 comments, the Random Number Generator picked #12, which is Sara! Congrats Sara! I sent you an email!

Thanks for participating, everybody!