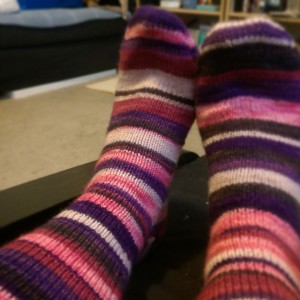 Last week saw the first of the series of storms that usually brings our cold weather on, and it was so lovely to wear boots for the first time in a long time. The only thing that could make it better was the addition of hand-knit socks inside the boots.
I have a whole drawer (albeit a small drawer) full of handknit socks, some that rarely get worn, and I've come to the conclusion that my sock knitting should be for other people. At least for a little while. I'm making the dude a pair of striped socks, and meanwhile I'm coveting yarns from gynx and Spun Right Round for imaginary pairs to grace the feet of the people I love.
I also ran across this stunning sock again on Ravelry today and wanted very much to cast on a pair for myself even though I have 3 WIPs on the needles right now, and entirely too much to knit before Christmas.
To celebrate my deep and abiding affection for the humble handknit sock, all of my sock patterns are 15% off through my Ravelry Store (and this site which uses Ravelry's cart system). Just add the patterns to your cart, and check out. No coupon needed, the discount will be automatically applied.