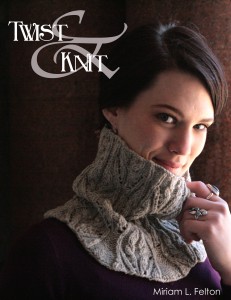 Miriam's first book, Twist & Knit: A Dozen Knitted Patterns for Handspun, Hand-dyed, and One-of-a-kind Yarns was released July 2010 to critical acclaim. It is now in its second printing, providing a unique perspective on the inter-related nature of patterns and yarn.
Every knitter knows the frustration of running out of yarn. This nagging fear is compounded when the yarn is one-of-a-kind or hand-dyed and simply heartbreaking when you've spent hours spinning the yarn yourself. This book offers twelve patterns specifically designed to get the most out of your unique yarn. All of the patterns have small repeats, very flexible gauge, or carefully selected construction to allow you to use every yard of yarn without sacrificing wearability.
12 patterns
27 pages of supporting material, including technique tutorials.
Highly versatile patterns for a variety of yarn weights, with instructions given for modifications in width and length.
Fully charted patterns
Patterns Included in the Book
Cleite Shawl
Colonnade Scarf
Comfy Shawl
Dropleaf Wrap
Gable Mitts
Lune Shawl
Motte Shawl
Porifera Socks
Transverse Scarf
Tudor Stole
Vinca Shawl
Windward Cowl
Product Details:
Paperback: 96 pages
Publisher: Cooperative Press (June, 2010) – Second Printing February 2011
Language: English
ISBN-13: 978-0-9792017-3-8
Product Dimensions: 8.5 x 11 x 0.5 inches
Want to have the patterns in your Ravelry Library?
You can purchase the printed book plus the digital add-on for only $2 more. The digital add-on gives you the full patterns for all of the designs except Cleite (which is under contract for digital distribution), with all the tutorials you will need as a supplement pdf. The digital add-on also has the text translations of the charts, which the printed book does not have.
If you purchase the digital add-on please enter your Ravelry ID in the notes during checkout.
If you want the digital files without purchasing the printed book, you can buy them individually or in Collections #1, #2 & #3 through Ravelry. All digital versions are available immediately.
Shipping in the US is done via USPS Priority Mail. International Shipping is done via USPS First Class Post. If you are overseas and prefer another shipping method, please email orders AT mimknits DOT com to get discuss shipping options and get a custom invoice sent to you.
If you purchase the digital add-on please enter your Ravelry ID in the notes during checkout.
You can also purchase through Amazon here.